Football News Update,
Sebastian Fernandez quick goals to bring Uruguay win over Italy.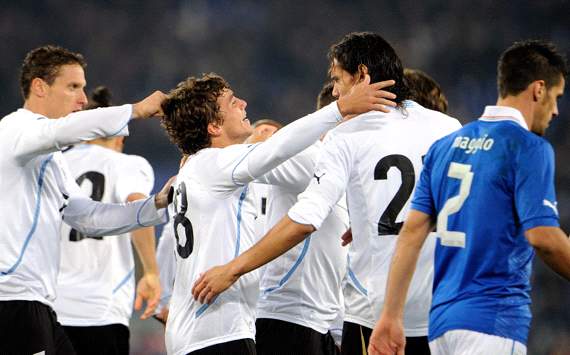 Italy had to swallow their first defeat of Uruguay, this is the first time since eternity Italy June yesterday. Victory over Italy make seven victories to Uruguay in the International arena.
1-0 victory is once again extending the record of Oscar Tabarez trim fleet, which now has never been defeated in 13 party after Germany defeated 2-1 at the end of May.
Italy fortress itself worthy, condemned the wave of helplessness to maximize the opportunities that are present in this fight, one of splendour under the authority of Fernando Muslera La Celeste. Galatasaray goalkeeper even demonstrates resilience in the first minute, when he snatched the golden chance Mario Balotelli, who got a scalable chip Claudio Marchisio.
Shortly thereafter, he was a successful Uruguay opened the scoring when he gets a good opportunity. The low Crossing completed Sebastián Fernández Martín Cáceres, Malaga substitute striker Luis Suárez, who rested.
After a goal in the third minute, the Italy to intensify the attack. They produce two chances within a few minutes. The first long-distance shot through Muslera Balotelli again ignored, and Pablo Osvaldo header from Cristian Maggio welcomed the cross that still failed to meet targets.
On the Gli Azzurri, Gianluigi Buffon Edinson Cavani successful rescue efforts, while continuing Muslera impresifnya performance with opportunities to thwart Simone Pepe, Riccardo Montolivo replaced appearing at half-time.
In continuation of the game, the more dominant Italy in search of a goal back. A chance drive via Maggio kick floated over the crossbar, while Federico Balzaretti opportunity after receiving feedback Daniele De Rossi once again failed to produce results because Muslera.
Uruguay, who had to play with ten men since the 81st minute following a second yellow card for Alvaro Pereira for handball on the edge of the penalty box, managed to keep the density of the defense line and keep winning until the fight was over.